25 Mar

5 successful female entrepreneurs who also happen to be disabled

What holds disabled people back? In most cases, it's definitely not their disability. Rather it's the restrictions imposed on them by a society that is slow to reach true inclusivity. But disability, whether mental or physical, is very much not an inhibitor for millions of people around the world. Countless people living with disabilties have proven that they can achieve their goals. From disabled para-athletes to businesspeople, social workers, entrepreneurs and myriad other fields, there are loads of disabled people carving a path. Here are 5 successful female entrepreneurs.
5 female entrepreneurs who live with disabilities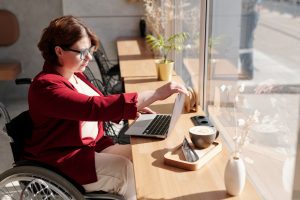 I've spoken before in my blogs about the accessibility issues that force some disabled people into entrepreneurship. I this blog I'm highlighting five successful female businesswomen who ventured into the entrepreneurial world of start-ups with loads of success.
Sangita Desai, co-founder of India-based RawNature Company
RawNature is one of the biggest names in India in the natural cosmetics and grooming sector. All their products use only the best ingredients derived from natura, are vegan and 100% natural.
Sangita Desai is co-founder of RawNature, who launched the company with her father after a 25-year career as a fashion designer. Sangita was born with a congenital abnormality called Symbrachydactyly, which causes limb abnormalities. In Sangita's case, she was born with no fingers on one hand.
Having studied fashion design in London, her career led her to design costumes for all kinds of clients, including for high-profile advertising campaigns. Her studio in Mumbai was destroyed by the floods of 2006, after which she turned her entrepreneurial talents to start RawNature.
Charlotte Elizabeth, founder of Charlotte Elizabeth, UK
Charlotte Jones always had an ambition to be a high-profile handbag designer. At 16 years old, she was diagnosed with myalgic encephalomyelitis (ME) and postural orthostatic tachycardia syndrome. She had to leave school and became housebound.
ME is also known as Chronic Fatigue Syndrome (CFS), an illness that causes various degrees of degeneration in cognitive and physical ability. Postural orthostatic tachycardia causes a high heart rate when the sufferer stands up, which can lead to fainting and extreme fatigue.
While both of Charlotte's conditions are significantly debilitating, she didn't allow them to stop her entrepreneurial ambitions. With some support from The Prince's Trust, Charlotte launched her own designer ecommerce website selling her own, exclusive designs. Today, her brand is globally recognised and has been name-checked by the likes of the Duchess of Sussex, Meghan Markle.
Mary, Hannah and Emma Layden, co-founders of love bili nyc
New York based sisters Mary, Emma and Hanna Layden all live with a rare genetic condition called multiple pterygium syndrome. This leads to all kinds of different symptoms, from scoliosis to muscle weakness and skin webbing. The symptoms make day-to-day living difficult and for the Layden sisters has necessitated many surgeries.
Rather than give up because of their disability, the sisters turned it into an opportunity. They co-founded a company that brings awareness to the struggles faced by disabled people and actually celebrates their differences.
Their business sells shirts, pins and bags, all featuring designs incorporating walking sticks, walkers and wheelchairs. They also sell apparel featuring a brain made from hearts to highlight the fact that not all disabilties are visible. They primarily use Instagram to promote their store using hashtags #loveyourdisabilty and #loveryourabilty.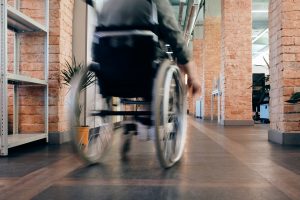 Deborah Davis, business owner of Wheelchair Lifestyle Enterprise Push Living
Today, Deborah is an award-winning Florida-based business owner. She's also a prolific speaker, entrepreneur and disability inclusion consultant.
A former dancer, Deborah sustained a spinal cord injury in a car crash in 1985. The injuries resulted in incomplete quadriplegia. After studying Finance, Sales and Marketing, Non-Profit Development and Management, she launched her own business.
Her business, Pushliving.com is an online enterprise aimed at creating inclusion for disabled people through providing stock images for advertising and editorial uses. As well as this, she writes an online magazine for improved wellbeing and health with loads of opportunities for accessible travel. Her venture also includes an online store selling products designed to improve lives.
Maria Iliou, artist and entrepreneur with the Art of Autism
Maria Iliou is a Greek fine artist who lives with autism spectrum disorder. She lives in New York and spends much of her time advocating for the rights of autistic people. Maria's art subjects vary from scenes of nature to portraits of family life and abstract pieces.
As well as painting, Maria launched her own autism group called Athena Autistic Artist and plans to publish a book of poetry. She has won numerous awards for her art and poetry, and was also selected as the artist for a range of greetings cards for the Autism Society of America three years in a row.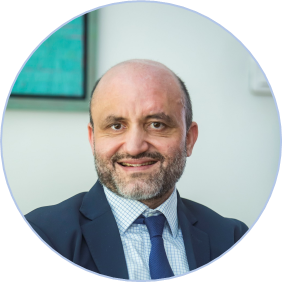 Rouzbeh Pirouz is Co-Founder and Senior Partner at London-based Pelican Partners, a real estate and private equity investment firm. On this website you can find out more about his life, work and experience.