02 Mar

Technology is driving innovation for start ups to support disabled people across Europe

More than 120 million people live with some kind of disability across the European Union (EU). And while there is a constant move towards more accessibility and disability inclusion, so much more could be done. The European Accessibility Act was introduced in 2019 to do just this. It aims to make more services, products and businesses truly accessible. Technological advances mean that the possibilities are there. In fact, the global assistive technology industry is estimated to be worth around £19.8 billion by 2024. No surprise then that there are loads of start-ups and entrepreneurs working on solutions to supporting disabled people around the world.
9 start-ups and apps that focus on supporting disabled people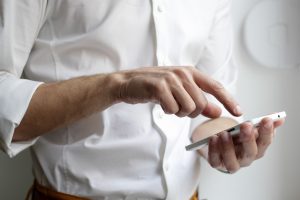 This list shows just some of the many start-ups led by innovative, forward-thinking, talented entrepreneurs determined to change the quality of life of people who live with disabilities. From apps to supportive equipment, I'm excited by the sheer scope of the ideas that are coming to fruition.
Wandercraft for people with locomotor disabilities
In 2012, robotics expert Nicolas Simon launched Wandercraft along with two roboticist colleagues. After observing close relatives struggling with mobility issues, he was inspired to create a biped robot that walks like a human in a self-stabilised way.
The result was the Wandercraft Atalante exoskeleton designed for people with locomotion related disabilities as a result of a stroke, spinal cord injury or neuromuscular disease. Atalante is a lower limb exoskeleton device that can balance itself and is used in rehabilitation at healthcare institutions.
As patients don't have to learn how to balance using crutches along with the exoskeleton they can start moving independently almost immediately. In 2019, Atalante was CE certified and is in use at a growing number of rehab institutions around Europe.
Be My Eyes for visually impaired people
This free app was launched in Denmark in 2015 and links people who are blind or have some kind of vision impairment with sighted services, companies and volunteers. Through the app the user can communicate via live video connection with the volunteers and companies.
Be My Eyes was founded by Danish furniture craftsman Hans Jørgen Wiberg. Hans has a visual impairment himself and wanted to solve a problem facing everyone with a similar disability. He knew that blind people sometimes need occasional assistance to carry out everyday tasks so decided to do something about it.
He decided to incorporate the idea of video calls with connecting people. The app links a network of around three million people. Over the years, the app has linked up with all kinds of companies, including Google, Microsoft, Clearblue and Moovit.
Pedius for deaf and hearing impaired people
Another app, this time for people with hearing disabilties, Pedius  is designed to help users make phone calls. It uses advanced tech for speech recognition so that deaf people can make real-time, totally private and easily accessible calls on Android or iPhone devices.
The user texts their message through the app, which then reads it to the contact in question. They can choose either their own voice or an artificial voice. The answer then appears in written text instantly. Pedius was founded in Rome in 2013 and currently works in six languages with more than 13,000 users. The app also offers business services designed to facilitate including disabled workers.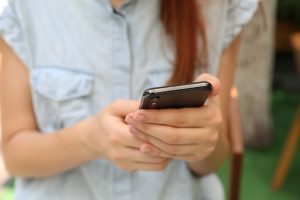 Scewo for wheelchair users
Founded by Bernhard Winter, Pascal Buholzer and Thomas Gemperle as part of a student project, Scewo started out by developing a compact wheelchair that allows users to climb stairs and other obstacles.
The first prototype was called Scalevo and was launched in 2014. Two years later the Scewo AG made an appearance, giving way to the third prototype Scewo Bro in 2018. Hailed by the BBC as a "revolutionary stair-climbing wheelchair". A new generation of wheelchair technology, Scewo uses smart tech to simplify the everyday life of wheelchair users.
The ability to climb stairs in a wheelchair is revolutionary. The Climber mode for the Bro allows users to climb levels made of different materials. It's fully adjustable with all kinds of ergonomic tools to tailor it to the user.
Mimi Sound personalisation
Mimi bridges the gap between audio and different hearing levels. It's a personalised sound experience that can be tailored to anyone's hearing. Using proprietary tech inspired by biology, the platform's bio-algorithm replicates the way our ears work.
Using cutting edge research and innovative development, Mimi was created by a team of hearing scientists all working on the goal of delivering the best possible personalised sound. It works across all kinds of tech providers, operating systems and platforms for seamless integration. It can be used across all kinds of devices from headphones to TVs and smartphones to inflight entertainment systems.
flex for physical rehabilitation
Using motion tracking tech, re.flex produces wearables that guide physio patients through the last stages of rehab. This means they can do monitored exercises effectively at home. It's for people who have had their hip or knee replaced or undergone surgery for ligament tears. The start-up was launched in 2016 by a European Brazilian jiu jitsu champion and his business partner Andrei Kluger.
Mouse4All for people with severe physical disabilities
Another app, Mouse4All is specifically designed for people with severe physical disabilties. These include multiple sclerosis, cerebral palsy, spinal cord injuries, neuromuscular disease or amyotrophic lateral sclerosis (ALS). It allows users to access Android touchscreens without actually having to touch the screen. This then allows access to social networks, online games and the Internet. The mouse comes with an augmented pointer and is compatible with Bluetooth. Fully customisable and easy to install, Mouse4All was launched in Madrid in 2015, and has since won a number of awards from the UN and EU.
Wayfindr for vision impaired people
Wayfindr helps people with visual impairment to travel indepdendntly using audio navigation. Based in London, Wayfindr was launched in 2015 and since then have developed the Wayfindr Open Standard. This an internationally approved standard through the International Telecoms Union, which aims to develop a consistent standard to remove barriers.
The ultimate goal is to implement the standard across wayfinding systems to allow people with vision impairment to do what they want to do. As the Open Standard continues to develop, it will eventually give all kinds of services and venues the tools to create and implement the audio solutions.
Munevo for wheelchair users
Using a Google Glass app Munevo allows wheelchair users to steer making simple head movements. It's for people with MS, Parkinson's and spinal cord injuries, all of which can restrict the user's freedom of movement and by extension the independence linked with it. Instead of being dependent on other people, users can steer their own wheelchair. Its goal is to positively impact mobility for disabled people who use wheelchair and to destigmatise the whole experience. In 2019, the team won the German Mobility Award 2019.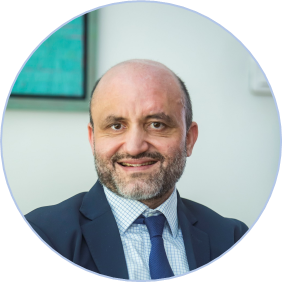 Rouzbeh Pirouz is Co-Founder and Senior Partner at London-based Pelican Partners, a real estate and private equity investment firm. On this website you can find out more about his life, work and experience.